The Panel Station Loot
The Panel Station: Complete Short Surveys and Earn Paytm Cash, Flipkart, FreeCharge Vouchers (Proof Added)!
Step-by-Step Guide to Earn Rs 300 Free Paytm Cash Easily by Filling Small Forms!!
Guys, you might be earning few bucks filling up lengthy forms, right? But now we are here with one new way to earn a lot by just filling little short surveys which are really interesting and easier. We already Shared you a lot of free recharge tricks. Here we are back with big free paytm cash trick. This time you can earn big and this is the coolest post of the month so must read the whole article! We are going to use The Panel Station Survey Portal which is very secure, verified and best portal for earning many rewards like Paytm Cash, FreeCharge Vouchers, and Shopping Vouchers too! So give it a try!
New Surveys Added. You will get 1200 Points instantly on Signup after completely filling your Profile! Added Panel Station Unlimited Trick Below!! Loot Lo!! Also, keep checking your email inbox for Survey Invitation from Panel Station. They regularly send invitations.
Quick Recap of Panel Station Paytm Loot
How to Earn? – By Filling Small Forms and Surveys
What is the Signup Bonus? – 1200 to 1500 Points.
1000 Points = Rs 100 Paytm Cash!
Minimum Redemption for Paytm Cash: Rs 300 or 3000 Points
Redemption Time: Within a month
Is this Genuine & Verified? – Yes, totally Genuine & Verified, Proofs Added Below! 😉
CHECKOUT: Vivo IPL Election Se Selection: Vote for your Favourite Players
Steps to Start Earning Paytm Cash through

The Panel Station
Step – 1: First of all, Signup at The Panel Station by clicking signup button below:
Step – 2: Fill up the details in the registration form as guided below:
Enter your First Name, Last Name & Email.
Select your Gender: Female. [Important] *They get more female-targeted surveys, so you may register using Female Details, you may use your Sister or Mother or any Lady Details from your family.
Enter your Date of Birth (DOB) and make sure you cross at least 18 years. If not then just in Birth year enter 1998 or less than 1998.
Now you have to select your city, so to get more Paytm cash, select one city from the given list. (

Optional

)
Ahmedabad, Coimbatore, Indore, Baroda, Lucknow, Chandigarh, Pune, Patna, Jaipur, Bhubaneswar, Bhopal, Faridabad, Kanpur, Meerut, Nashik, Surat, Nagpur, Varanasi, Ludhiana, Rajkot, Ranchi, Guwahati, Mangalore, Amritsar, Kochi/Cochin
Click or Tick Mark on Terms and Conditions to Accept them.
Verify the Captcha.
Finally, click on Submit button to submit all your details.
Step – 3: Now you will be sent a verification email to your registered email id. Just check and verify your account.
Step – 4: That's it. Your account is active now. You would get your Password through a mail. So check it.
Step – 5: Now Login to The Panel Station with your New Account and Check for Surveys and Forms to Fill up and Earn.
Tip: You will receive Survey Invitation from Panel Station in your mailbox. So, keep checking your email inbox and spam box regularly. Click on the Invitation link and just log in to your account and on the dashboard, you will see lots of Surveys and Offers.
Step – 6: Start completing them. They are bit easy and you easily make Rs 300 in just a few minutes. Click on any Survey which you like and start completing it.
Step – 7: You will also be notified every time through the mail for new offers and surveys. You will regularly receive Survey Invitations. So always check your mailbox regularly. Also, check your email spam box. Daily I used to get 10+ Survey invitations. Check the Image added below.
Step – 8: Now you need to complete your 4 profiles to get 1200-1400 Points instantly (=Rs 120 to Rs 140).
Note: There are 4 Profile Details you need to fill. Every profile completion will give you 300-400 Points which means you will get total 1200-1400 Points instantly just after Registrations. 
This is it. Now continue filling more surveys as you get them. This will let you keep earning every time you complete a Survey successfully. Check out the Panel Station Special Earning Trick.
DID YOU KNOW? – Just by Keeping The Panel Station App in your Phone, you can earn Rs 100 Paytm Cash Every Month. Checkout Here: How to Earn Paytm Cash Using The Panel Station App?
SIMILAR LOOT – Valued Opinions: Fill Surveys & Get Rs 400 Flipkart or Amazon Vouchers (Proof)
The Panel Station Unlimited Trick (Unlimited Paytm Cash)
Lots of readers demanded Panel Station Unlimited Trick and we are here with it! It's pretty simple but do follow the steps given here very carefully!
Also, note that this trick is just meant for educational & informative purposes! Don't misuse it! 🙂
First of all, follow the above steps to Register to Panel Station and Start Earning!!
Now for the unlimited trick, we need more Panel Station accounts. So we will create multiple accounts.
First of all, Change your IP Address by turning off and turning on the Mobile Internet.
If your Mobile is Rooted then change other Values such as Android ID, IMEI Number, etc. (Optional)
Now again click on the Signup link given above or Click Here
Now you have to Create a new account using new details. Your email and mobile number should be new means it shouldn't be already registered on Panel Station.
Follow the above Registration Steps and complete the New account registration.
That's it. Now regularly start completing Surveys in this New accounts too!!
For more Paytm Cash, just create more such account and complete surveys in them.
Must follow this steps again and again to Loot Unlimited Paytm Cash from Panel Statio Unlimited Trick!!
Tips:
Must change IP Address before creating another account.
If you have multiple devices then create a new account on new devices.
If you have single device then try to change Android Id and IMEI number before creating a new account.
While Registering a New account, Must use the link given above or Click Here.
MUST READ: How to Link Aadhaar with Mobile Number at Home through Call?
What is

The Panel Station

and How does it Work?
The Panel Station is the Biggest Online Survey Portal where users earn rewards by completing surveys. Every survey fetches you reward points ranging from 100 to 5000 depending on the complexity and length of every survey. The Panel Station automatically credits the points earned to your account. You need minimum 3000 points on your account to start redeeming.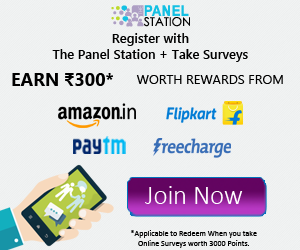 You just need to signup at The Panel Station and then fill up your profile and wait for the invitations of the Surveys. It's very easy and you are really going to enjoy it and you will definitely fill up your pockets with exciting rewards. (Read more for rewards list)
   Click Here to Get    25 Free Mobile Recharge Instantly
The Panel Station Points Redemption
1000 Points = Rs.100
You can redeem your earned points for free paytm cash, free Flipkart vouchers, free amazon vouchers and much more.
Note: Minimum redemption points are 3000 Points. After getting 3000 Points just click on Redeem button and redeem your favourite brand vouchers or Free Paytm Cash!
To redeem, just go to Your Points and click on Redeem button.
Select Paytm if you want Free Paytm Cash or else select whatever you like and redeem.
You can Currently Redeem for:
Free Paytm Cash
Free Flipkart Vouchers
Free Amazon Gift Vouchers
Free GIft Xoxo Gift Vouchers
NOTE: You will receive Paytm Cash in your Paytm Account registered with the Panel Station Email ID. So make sure you have Paytm Account with that Email ID, if not, then create new before redeeming.
The Panel Station Survey Loot Proof
Latest Paytm Cash Proof
Panel Station Flipkart Voucher Proof
Frequently Asked Questions
More about The Panel Station: Panel Station is a diverse community of over 1.5 million consumers from world's fastest-growing economies. As a member, your opinions on consumer goods, technology, healthcare, travel, and finance help global brands build better products and create better experiences. So, what are you waiting for – share your thoughts with the world's prominent brands and get rewarded. We disburse USD $2 million+ worth of incentives to our worldwide members every year. With the strong support of their community members, they are shaping to become one of the world's largest consumer panel and a premier global provider of consumer research information to major corporations. They are a part of Borderless Access Pvt. Ltd. an online market research survey & panel company. They specialize in providing consumer insights via online panel services in emerging & hard-to-reach markets across the world. They value your data security, privacy, and confidentiality. The Panel Station is an ISO 27001:2005 certified company. Note: 100 Points = Rs 10 INR
About The Panel Station - FAQs
a) What is The Panel Station?
The Panel Station is an online community of consumers who regularly share their views and opinions on a variety of issues by participating in market research surveys. By participating in these surveys, members of The Panel Station influence decision making in organizations worldwide, and help in the creation of improved products and services.
b) Why should I become a member of The Panel Station?
If you have a point of view on the products and services that you use in your daily life and believe that your opinion matters, then The Panel Station is the place for you. Through its surveys, The Panel Station enables you to share your views and influence decision makers across industries. What's more, your opinions will earn you exciting prizes! Each survey you participate in will help you win reward points and a variety of gifts, instant prizes, and vouchers.
c) How does The Panel Station make money?
The Panel Station caters to organizations and market research companies seeking authentic consumer opinions. We help them by delivering your views on issues related to their products or services and are accordingly remunerated for this service. Our members are in turn, rewarded for their time and participation in each survey.
d) Does The Panel Station operate in my country?
While the community's opinions reach clients and organizations worldwide, The Panel Station is currently open to the legal residents of India, Brasil, Russia, China, Mexico, Argentina, South Africa, Indonesia, Turkey, Philippines, Poland, South Korea, Taiwan, Chile, Nigeria, New Zealand, Colombia, Australia, Singapore, KSA, UAE and Thailand.
Signing Up FAQs
a) How do I become a member?
To register as a Panel Station member, simply click on Sign Up. You will be asked to provide some basic information during your account creation, as well as some information about yourself in order to participate in our numerous surveys. After you sign up you will be sent a confirmation email in order to finalize your registration.
b) Can other members of my household also join The Panel Station? Sorry, but only one email address/member is allowed to register with The Panel Station. The member who joins should be the person who wants to take most surveys. The good news is that other members of your family can still take our surveys! Look for invitations asking for opinions from "the teen in your household" or "the male in your household", etc., and ask the appropriate family member to respond. Any rewards and prizes other family members earn will be added to your rewards account.
c) Is membership to The Panel Station free? Absolutely. You will not be required to make any payment to become a member of The Panel Station. On the contrary, each survey you participate in will earn you reward points which can be redeemed for vouchers and exciting prizes! The Panel Station is not going to sell you anything. We are only interested in your opinions.
d) Why do you need my personal information? To ensure the optimum value of your time and opinions, we will invite you only to those surveys that best match your demographic profile and interests. In order to do so, The Panel Station requires a certain level of personal information from you. This information is used only to profile each member for our surveys. The Panel Station respects the privacy and supports the rights of its members by limiting the use of its information for legitimate marketing research purposes only. To preserve the confidentiality of all information you provide to us, we maintain the following privacy principles: Privacy Policy doc
e) What will you do with my personal information? When you fill out a survey, The Panel Station uses your responses along with other participants' responses to inform clients about consumer's attitudes about their products or services. The registration information you fill out gives clients a general picture of what types of people filled out the survey: how many men versus women, the average level of education, etc. We use your e-mail address to send you invitations to participate in new surveys and to contact you with messages about The Panel Station. We use your postal address to mail any survey-related incentives or product samples.
f) What happens after I join? We will send you an e-mail welcoming you to the panel. After that, we will contact you periodically by e-mail to ask you to take part in a survey. The e-mail will contain all the information you need to participate, including the URL to visit to take the survey. When you take a survey, you'll have the opportunity to earn points and win prizes.
g) In what ways will you contact me? An email will be our primary means of contact. We use your e-mail address to send you invitations to participate in new surveys and to contact you with messages about The Panel Station. However, on occasion, we may contact you by SMS, by calling you or by sending a postal questionnaire to your registered address. We would take your permission to do so, where possible. You will always be able to clearly identify any communication from us – emails and letters will be very clear from The Panel Station, text messages will always say 'TPS Research', and in any phone call, we will clearly tell you that it is someone calling on behalf of The Panel Station. All our surveys are for genuine research purposes and your answers will never be used to try to sell you something at a later date.
h) Is there a minimum period of membership? No. While we look forward to your continued participation with The Panel Station and its surveys, you will be under no obligation to sign up with us for a minimum period of time. Although we would be sad to see you go, you can unsubscribe at any time you wish. Simply log in to My Station and click on the settings icon on the top right corner next to "Welcome" and select "UNSUBSCRIBE".
Hope you like this Guide or Trick and enjoyed it. Do share it if you liked it. You can comment down your queries and we will sort them out soon! Check out other Free Recharge Tricks. Thank You!
Panel Station

Survey